New Construction Roofing Contractor in Middle Tennessee
We provide residential roofing for new constructions in Goodlettsville, Hendersonville, and nearby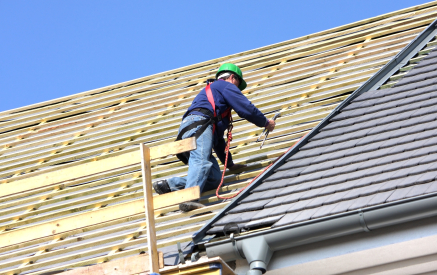 Lasting durability. A quality new construction roofing job will reduce the need for roof maintenance later on.
The right kind of roof installation is essential during a new construction project, as that roof will bear the brunt of the outside elements for years to come. In order to avoid roofing problems down the line, it's best to make sure that the initial roof installation is done correctly, with high-quality products and attention to detail.
Jewell Roofing & Exteriors is the local roofing company that you can rely on for all of your residential new construction roofing needs in Goodlettsville, Hendersonville, Gallatin. Contact us today for a free, no-obligation cost estimate on a roof installation for your new construction home in Middle Tennessee.
Choose from asphalt shingle roofing and metal roofing for the perfect style and appearance
Our available roofing types for new construction work include asphalt shingles as well as metal roof installation. Whether you're interested in the beautiful and timeless appearance of an asphalt shingle roof installation or the sturdiness and affordability of a metal roof, we have the perfect options for you.
Here at Jewell Roofing & Exteriors, we pride ourselves on only using the best products in the industry. That's why we offer a two-year workmanship warranty against roof leaks and shingle blow-off to ensure that your new roof stays durable and strong.
The benefits of a new construction roof installation from Jewell Roofing & Exteriors:
Two-year workmanship warranty against leaks and shingle fly-offs
Turn Key service, meaning we provide both the labor and materials
Supervisor present for each project
Roof inspection once the project is complete to ensure correct installation
Quality is always our mission, and we will provide an experienced supervisor for each new construction project. If you have multiple projects, you will receive a specific supervisor for your entire account. Once the new construction roof installation is complete, we will conduct a thorough roof inspection to make sure that the roof is installed correctly and to the specifications provided.
If you're looking for a roof installation that will keep your new construction home safe and dry for the long-term, Jewell Roofing & Exteriors is the roofer for you. We proudly serve Gallatin, Hendersonville, Goodlettsville, and throughout surrounding areas in Tennessee. Call us at 1-844-541-2036 or contact us online for a free cost estimate and get started on your new construction residential roofing project today!
Looking for a price? Get a no cost, no obligation free estimate.